The gm(48) is a quarterly 48 hours GameMaker game jam from the community of /r/GameMaker.
For more than 5 years, the community has been running the gm(48) games development competition for game developers of all ages and abilities. Whether you are a beginner or an expert, young or old, there's no reason not to participate. The gm(48) is a casual, fun and learning experience for everyone. By participating in the gm(48), you will learn and grow as a GameMaker developer. If you don't believe us, read the testimonials from those who participated.
The organizers constantly strive to further improve the gm(48) by enhancing the user experience, writing detailed guides and tutorials, and figuring out new ways to encourage community involvement and contribution. We recently redid our entire website, which serves as a symbol of our dedication, and intention to further expand the game jam. In addition, we provide game jam wide statistics and analytics, open for everyone at no charge. We believe this gives valuable insight into how developers use GameMaker. If you have a question, then check out our answers to frequently asked questions, or send us a message.
Thank you for taking the time to check out our game jam, and we hope to see you participate!
Permission
You may use the gm(48) brand, logo and imagery without prior permission as long as you adhere to the branding guidelines outlined below.
Package
Download Branding Package
Examples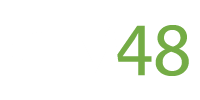 Usage
Do's
Do use the images included in the prepared, downloadable package.
Do use the branding in your gm(48) game entry and other gm(48) related games.
Do use the branding for covering the gm(48).
Don'ts
Do not change shape, proportions or colors.
Do not add special effects, gradients, or glow.
Do not use any other font than the original.
Names
When referencing the gm(48), please use the follow naming convention "gm(48)". If parenthesis symbols are not available, refer to the following naming convention "GM48" instead.
Colors and Schemes
Red:

#a94442

Orange:

#FE7847

Blue:

#3097D1

Bronze:

#A57164

Silver:

#A9A9A9

Gold:

#AB9353
GMS1

Black:

#212121

Green:

#6ea639

Light green:

#8cd248

Light gray:

#444444

Dark gray:

#3a3a3a
GMS2

Black:

#000000

Green:

#039e5c

Light green:

#04ea89

Light gray:

#262626

Dark gray:

#1a1a1a
Additional information
The reselling of the gm(48) logo is not authorised without prior permission.