Branding
The guidelines to using the gm(48) brand
Permission
You may use the gm(48) brand, logo and imagery without prior permission as long as you adhere to the branding guidelines outlined below.
Package
Examples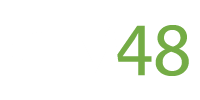 Usage
Do
...use the images included in the prepared, downloadable package.
...use the branding in your gm(48) entry and other gm(48) related content.
...use the branding for covering the gm(48).
Do not
...change shape, proportions or colors.
...add special effects, gradients, or glow.
...use any other font than the original.
Names
When referencing the gm(48), please use the follow naming convention "gm(48)". If parenthesis symbols are not available, refer to the following naming convention "GM48" instead.
Colors and Schemes
GMS1

Black

#212121

Green

#6ea639

Light green

#8cd248

Light gray

#444444

Dark gray

#3a3a3a
GMS2

Black

#000000

Green

#039e5c

Light green

#04ea89

Light gray

#262626

Dark gray

#1a1a1a
Bronze

#A57164

Silver

#A9A9A9

Gold

#AB9353
Additional information
The reselling of the gm(48) logo is not authorised without prior permission.