Goal
Don't let the enemies get to the end gate. Achieve maximum awesomeness of having a total of 50 turrets.
Tips
If enemies touch a turret the enemies take damage

turrets have a base which does damage to enemies if the enemies touch it. ( lay them in the path of enemies )
turrets have guns which does damage to the enemies if the enemies touch it
when you swap the turrets to you they fly from their stationary position and can damage the enemies

the more kills you get you can accumulate more turrets to lay down and swap to yourself
the more turrets you have attached to you. the slower you go
if you want to reposition your turrets you can blow them and they will damage enemies
also when you get a lot of turrets swapped to you, it's basically like having a giant sword
Click image for video on how to beat/play the game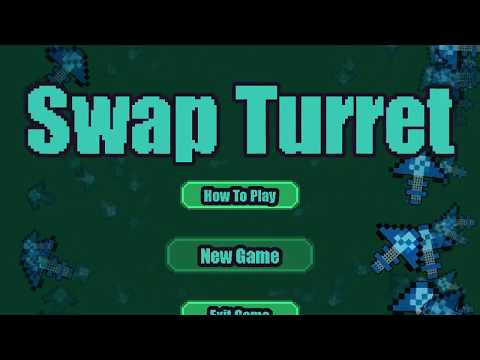 Controls
WASD moves or D-pad on gamepad. Diagonals work
Arrow Keys Shoot or gamepad x,y,b,a buttons. Diagonals work
Q or E lays traps or right bumper on gamepad.
Space swaps the traps to and from turret or right trigger on gamepad
Holding down space or right trigger on the gamepad explodes all turrets
Moving
Shooting
Laying Turrets
Swapping
Blowing Up Turrets