You have fallen into a deep coma. Your illness continues to grow within you, slowly turning off every single light inside... The player represents your conscience trying to escape and see her again... Amy please, help me!
KEYS:
Arrows to MOVE
Space to JUMP
E to DASH
"Floating PowerUP" gives you an EXTRA jump.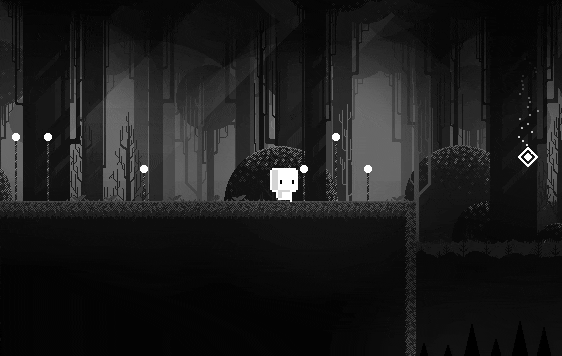 BUGS: F5 to restart game. If you Alt+Enter to go FullScreen you will lose some surfaces in the process, go fullscreen & press F5 to fix it. Falling in to the spikes did not kill the player (sorry) if you fall just press F5 to try again.
---
The game is not finish at all, when you cross to the right side the game ends, I only reach to make 1 room with the base mechanics.
In a future update I'll add 100+ rooms with diferent obstacles & new interactions with the enviorement.
It was fun to code it all, but 48hs is a very limited time to finish with all the ideas in my mind hahaha ;)
---
Background Music from: AtomicDouche
Updated version with bug fixes on itch.io:
https://whiteautumn-games.itch.io/deep-coma
*disclaimer: do not rate based on the itch.io version of the game.
Lv. 67

Oh wow when others said it was short I didn't know it was this short! Not dying felt pretty weird, you can move around and make the bug crash like 2 different ways or something

Oh well, I don't think I can give you more than others already said!

Patron

I will say I was expecting something a bit longer! I can see you focused on the art/visuals over content/mechanical polish - which is ok, but I would always go for a more complete experience over perfecting visuals!

That being said - the visuals are great! I like the background and the character - and the black 'thing' that is following you is a rather cool effect.

I did find it a bit tedious having to click through all the text at the start each time I died (I died a few times since I forgot I could dash). But that's part of the polish things - no dying in spikes, slightly awkward jump powerup thing (Mimpy mentioned this), the dash cooldown seems to be non existent if you're holding a direction and on solid ground.

All in all it felt a bit abrupt after the nice intro and setup, then the level starts, and then... game end?! I think it would have benefitted greatly from more time spent on content.

But still - it's a promising start, and as far as I can see - your first jam - so good job and hope you enjoyed it!

Lv. 2

Yeah I submid it at last minute of the jam so, ai forget to add spike damage & make spawn point on the level for it to not take u to the very first dialogue screen...

I learn soo much with the jam, it could be easier if i had that knownledge before start haha

Now the game continues growing day by day on a big proyect & with almost daily updates on itch.io.

Im soo happy with the results, thank u soo much for your feedback and all the feedback from the community :D

Patron

I think this game is beautiful, graphically, it's just a shame it's so short. You've got a really, really solid foundation here to expand upon and I hope you turn this in to a full project

---

Really seems like way more effort was put on this game visually than mechanics and functionality. The visuals are amazing, but there are severals bugs littered throughout. The most game-breaking (literally) is simply pressing S which creates a GM error screen and forces the game to abort, which caused me to have to reboot the game a few times. Also just falling down into the pit just softlocks the game and forces you to reboot it. I feel like a lot more effort could've been put towards the mechanics and functionality. The game is also incredibly short, which doesn't let what are some pretty solid controls shine practically whatsoever. A+ on art and aesthetics, D- on functionality and stability.

Lv. 2

Yeah some bugs where found after upload the game on the last minute, then I cant fix them.

There are unused mechanics for Q W S that wasn't remove before uploading.

Forget to add spikes damage & stop music on restart.

All fixed on io version :)

For my first JAM it was soo much learning to me haha

Thanks for your feedback.

If u can go & try the io version and send me PM with feedback :)

Patron

Fantastic art, music fits well. The subtle effect are very well implented. Just left wanting for more content! Can't wait to see what you make :D

Lv. 4

Congrats for the visual impression you created at your game, looks really professional. I am not so good at such kind of games, so I had to restart many times :) but finally managed to get to the right side. Unfortunately it ended quickly, I would try some other leves too.

Lv. 2

Thank you very much for your feedback!! I put a lot of effort in the game feel & pixel art.

Yeah this version is full of bugs, them are all fixed on the itch-io version of the game. Go & try it, it has more rooms and a very nice interactive tutorial screen ;)

And new keys. Z to JUMP - X to DASH. You can JUMP/DASH when you reach specific part of the tutorial.

Patron

I rated with regards to the submission. but I did play 0.0.3 as well.

I really like how the game looks, it looks really pretty, felt it was a bit strange to use e and space bar for dash/jump, more used to something like x/z, but was not a big deal. The tutorial was really cool but I felt the camera movement was a bit jarring, it always moved when the ghost spawned and disappeared. Good job, would be cool to see this developed further.

Lv. 2

Thank you very much! Yeah the camera movement focus on the tutorial ghost when it appears so the player can see better what the ghost is doing.

x/z will be a very good choise for keys, I'll add that in the next update. :)

I'm Posting updates almost every day on itch.io, just "Watch it Grow" haha

Lv. 2

I assumed there was WASD Controls but whenever i jumped when using wasd controls the game crashes

Patron

Nice style and gameplay, I can see that there was some possible influence from Celeste. Solid start to a cool game, looking forward to the full version.

Lv. 2

Celeste & Limbo too. I was trying to emulate what the inside of your mind would look like in a deep coma.

I think people in a coma can still feel the world around them, ill add real voices to the dialogues along whit in-game (inside your mind) interactions whit the exterior & your wife.

It will be a great immersive experience for all of you.

I'll Update it as soon as I can. Soo much Thanks for ur reply :)

Lv. 26

I thought I'd found a secret when falling into the spikes and not dying, but instead it turned out to just be a softlock, haha.

I really like the black tendrils that creep out of the void as it moves, that's a very interesting effect. And the design of the trees in the background are neat, too, kinda an interesting cross between natural and unnatural. I woulda liked to have had more about the narrative piece in the beginning, but then again I'd like to have more of the game in general!

Some more time could definitely have been spent on adding levels, but also on polishing the existing elements of the game, like making the spike pit kill you, or making the double jump pellets not get used up instantly if you're holding the jump button when you collect them, or making sure the audio doesn't double up when the level restarts. Even a super short experience can still benefit from responsive behaviors.

Nothing that can't be fixed over time though, this has a solid set up and it could definitely become something real nice with more time!

Lv. 2

Now that is what I call FEEDBACK. Thank you soo much for ur reply and so for giving my game a try.

Finishing it on time dont give me a chance to add levels but im adding them right now.

I forget to make the spike pit kill the player haha sorry...

I hear about the JUMP automaticaly behaviour, just have to change "key_press" to "key_pressed" in the code, ill fix that.

The audio double up apears after I upload the game, and after u die or restart, didnt notice it at time when uploading the proyect. Ill fix that too.

background suposed to be parallax with 10 layers, going to make better looking background in the next update! :)

Again thanks for giving me this amazing feedback ;)

Lv. 2

I enjoyed it! Would love to see more!

---

Very tedious, controls feel really floaty. art looks pretty nice.

Lv. 2

nice game, kinda creppy but that's good

Lv. 2

yay Thanks for playing my game. I put a lot of effort into the game graphics to make them look nice and to polish the mechanics, even so there are a couple of errors to fix in next update.

I finished the game in the last minute of GM48 and uploaded it, that's why I couldn't add more levels...

I will work hard this week to add at least 10 more levels, I can send it to you when it is finished.

Again ty for playing!! :D

Lv. 2

yeah i don't like how falling in to the void softlocks but yeah. i enjoyed the game, the graphics and stuff are very well done, I don't remember the music but the game is very cool! ^_^